---
Meet the New TCATA President
Please click here to view a 3-minute interview with the new TCATA president, Gerald Henke of Intex Distributing, Austin, Texas.
---
2016 TCATA Annual Conference Deemed "One of the Best"
"Another one for the books" seemed to be the consensus of attendees at TCATA's recently concluded annual conference, held in Ponte Vedra Beach, Florida. With the combination of excellent speakers, an outstanding hotel, fun social events and valuable networking, this meeting hit on all cylinders. Many attendees also commented on the energy and enthusiasm that Conference Chair Alex Atwater brought to this meeting.
Featured speaker Brian Beaulieu of ITR Economics outlined coming cycles in the economy, and showed attendees how to position their companies to prosper. TCATA members already receive the quarterly Private Label Advisor Report from ITR, but are also invited to receive other monthly updates from ITR – contact Cheryl or David for details.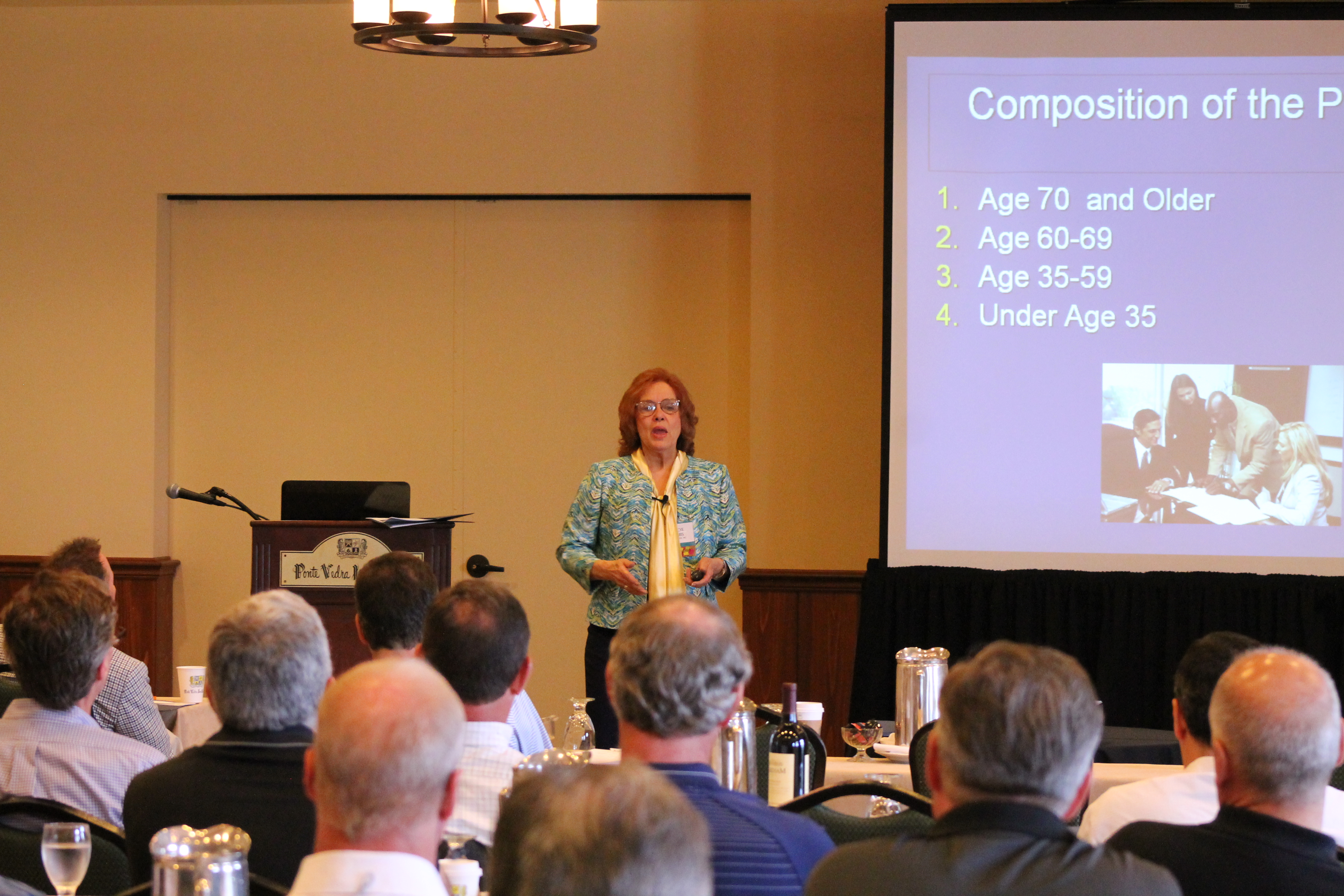 Human resources guru Nancye Combs covered important topics ranging from how to write an employment ad to conducting a legal interview to working with the millennial generation. TCATA members may contact Nancye (NancyeCombs@aol.com) at no charge for any HR questions. If the issue is complicated and requires more time, then you will be charged at a discounted hourly rate.
Former Navy SEAL Neil Guinan shared some of his experiences in the military, and showed how lessons learned there can translate to running a business. Attendees enjoyed hearing from this true American hero.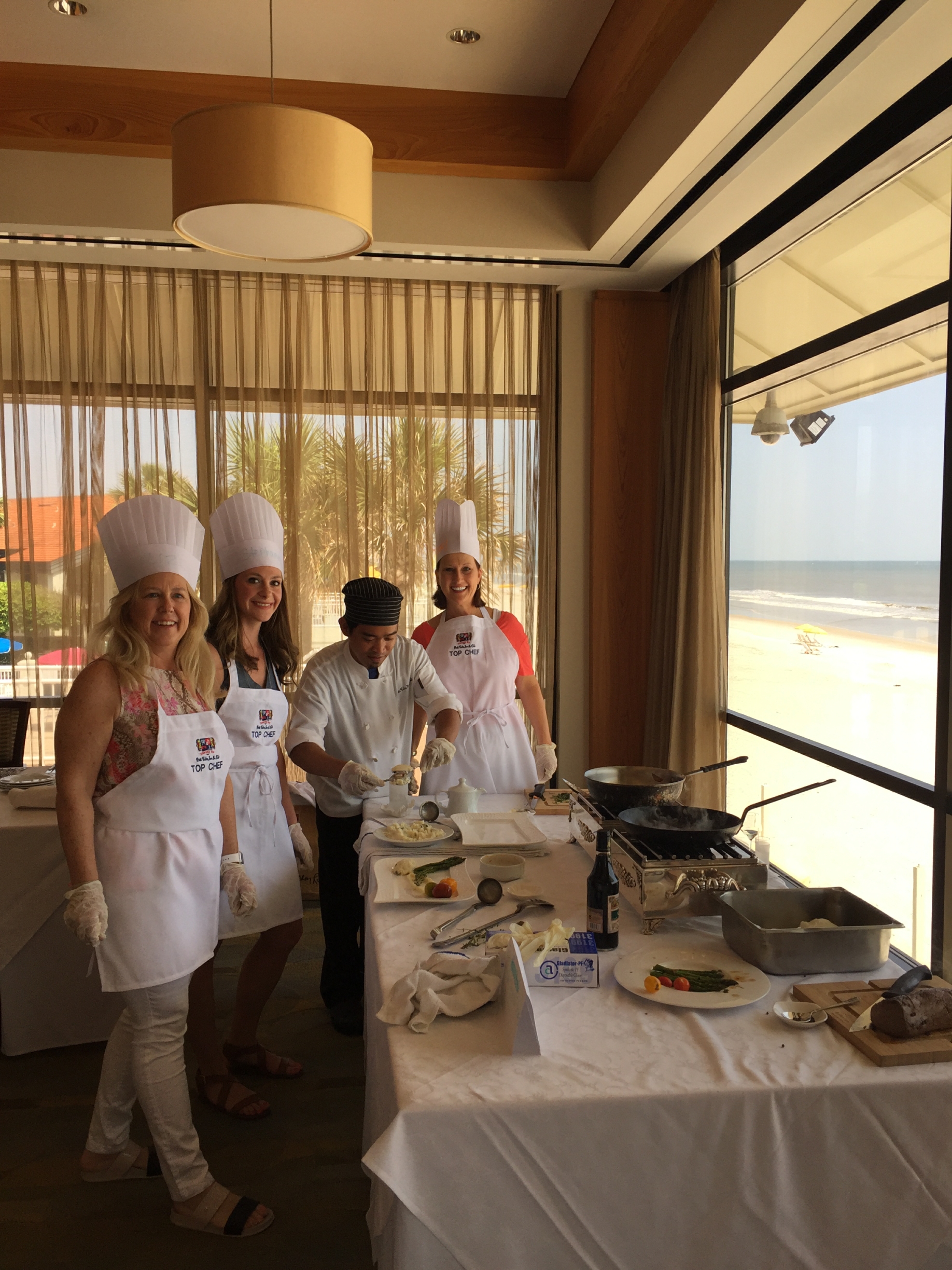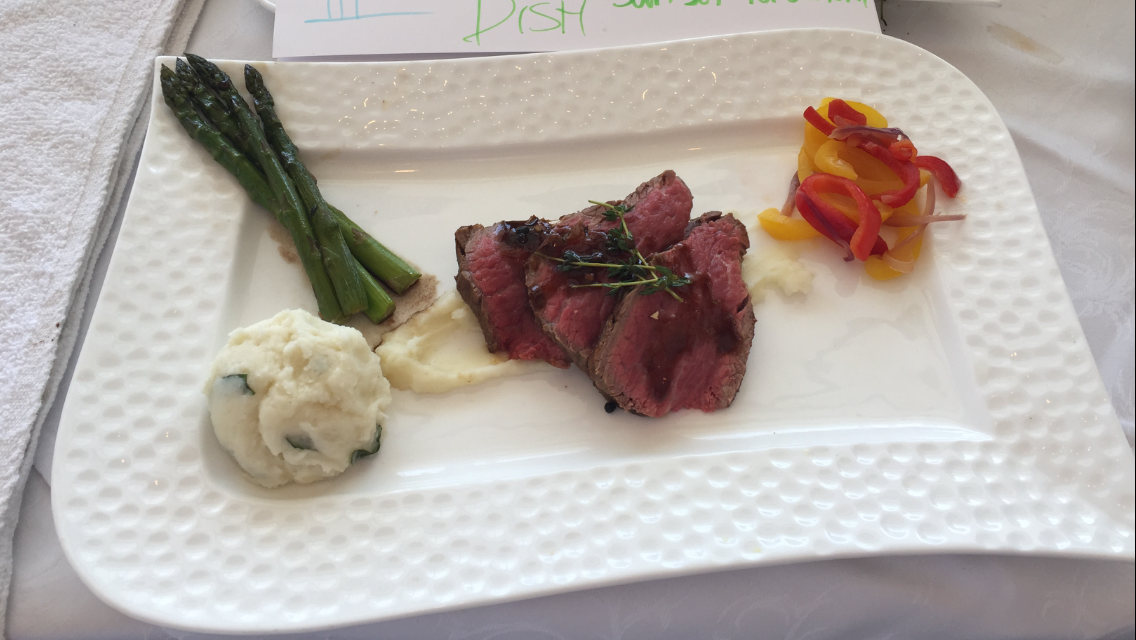 The winners of the Spouse/Guest Top Chef program are pictured above: (from l to r) Liz Johnson, Stephanie Magnus, Peggy Acton, and Crystal Williams was the fourth member and photographer. They were known as Team Loinly Tenderhearts, and also pictured above is their winning dish, titled, "Sunset Tenderloin." Congratulations, ladies!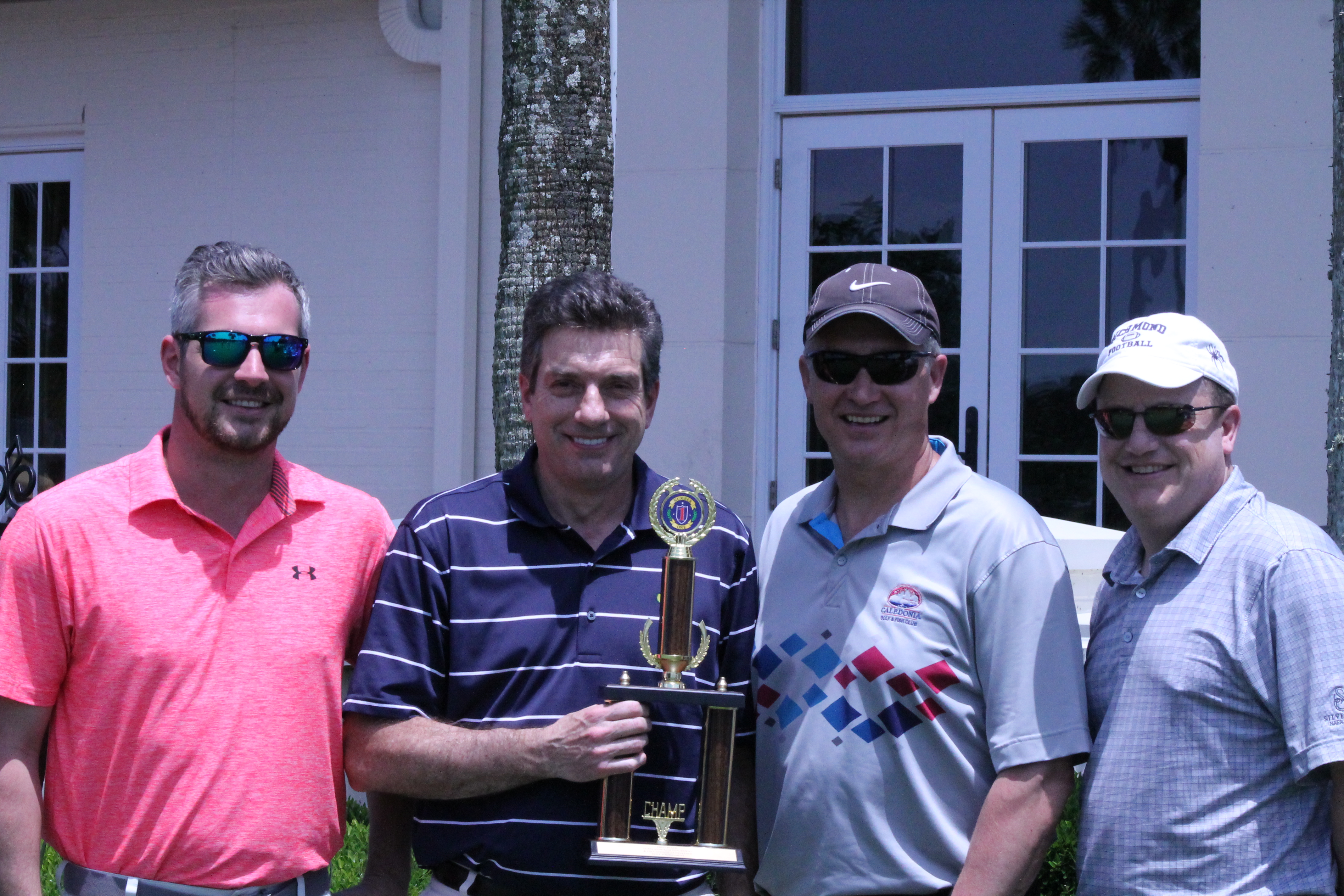 Taking first place in the golf tournament were (from l to r) Derek Hanson, JR Ryan, Ed Kirejczyk and Peter Limoncelli.
The golfers participating in the tournament raised $440 for the TCATA Scholarship fund with mulligans purchased for use during the tournament. Congratulations, guys!
---
Henke Assumes Presidency
Gerald Henke, owner of Intex Distributing of Austin, Texas assumed the position of president of TCATA. Mr. Henke has been very active in the Association for many years. He has served several terms on the Board of Directors and on various conference committees, including as chair of the 2008 annual conference in Austin. He and his wife Jackie have attended nearly every TCATA conference since 1982. Click here to view a brief video interview with Gerald.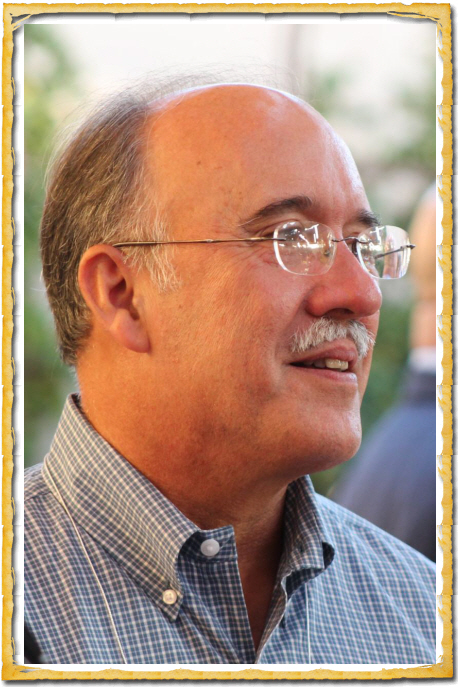 Officers, Board Members Elected
Henry Padron of Industrial Equipment and Supplies, Miami, Florida assumed the position of Treasurer. Elected as vice presidents were Michael Leeming of Parker Boiler, Machinery Manufacturer division; and Peter Limoncelli of Yankee Equipment, Distributor division. Re-elected as vice president was Alexander Seitz of Seitz Chemical, Supply Manufacturer division.
The results of the elections to the Board of Directors were announced during the meeting. Re-elected were Gene Williams of American Laundry Products, Supply Manufacturer division and Jim Horwath of A. A. Horwath, Distributor division. Newly elected were:
Bill Brooks - Alliance Laundry Systems-Unimac, Machinery Manufacturers

Michael Leeming - Parker Boiler, Machinery Manufacturers

Bill Schnitzer - Quality Fabricators, Supply Manufacturers

Orville Johnson - FabriClean Supply, Distributors

Andy O'Brien - Package Supply, Distributors

Charlie Thompson - American Trade Magazines, Related Trades
---
Mathews Retires as President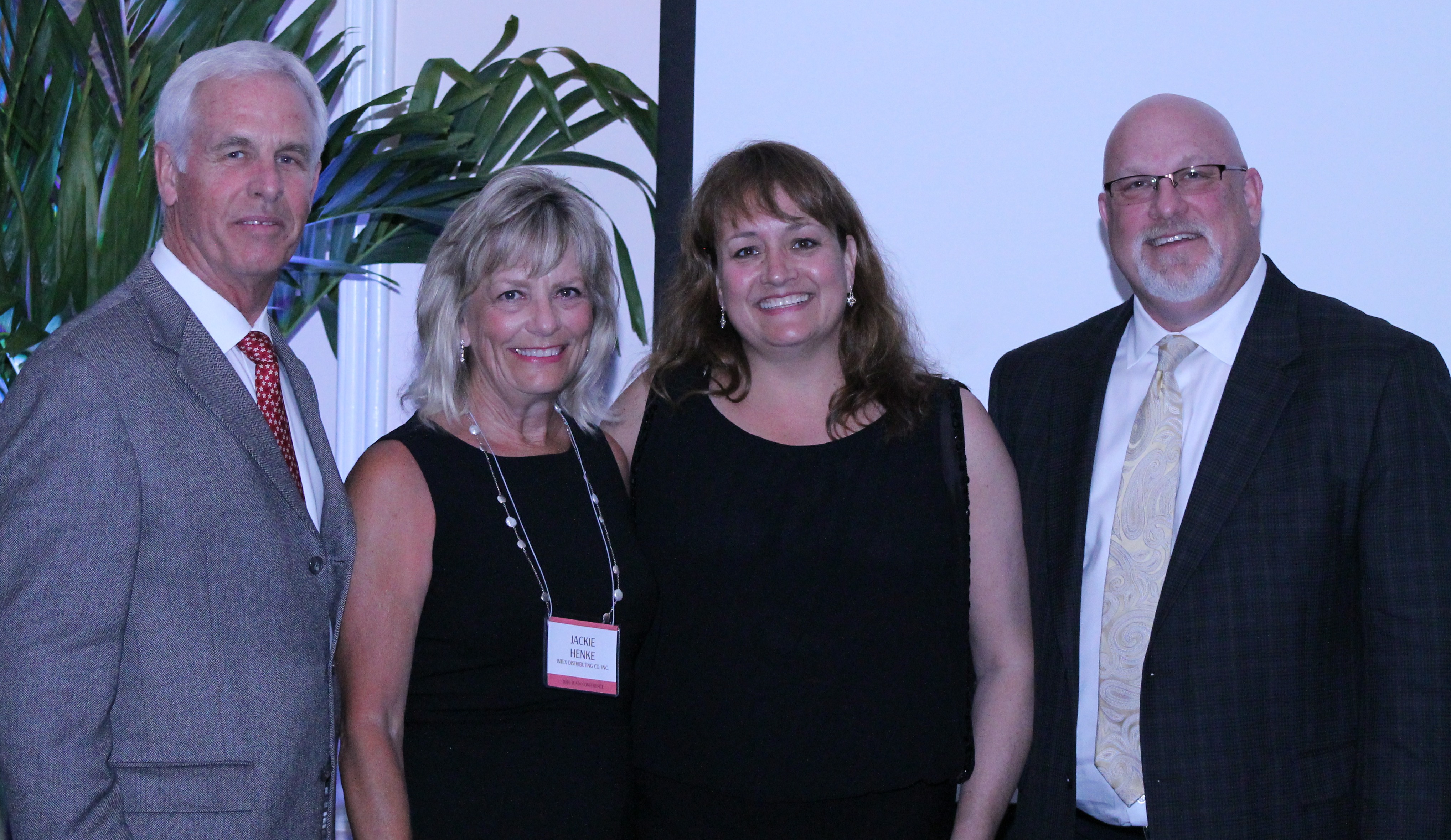 At the closing dinner, Gerald Henke thanked Steve Mathews of M & B Hangers for his years of service as president. Mr. Henke and his wife Jackie presented Steve and his wife Amy retirement gifts. Steve's father, Stan Mathews and his wife Jo were in attendance to their son retire. Steve and Stan are the first father and son to have both served as presidents of the Association. (Pictured above, from left to right are: Gerald & Jackie Henke and Amy & Steve Mathews.)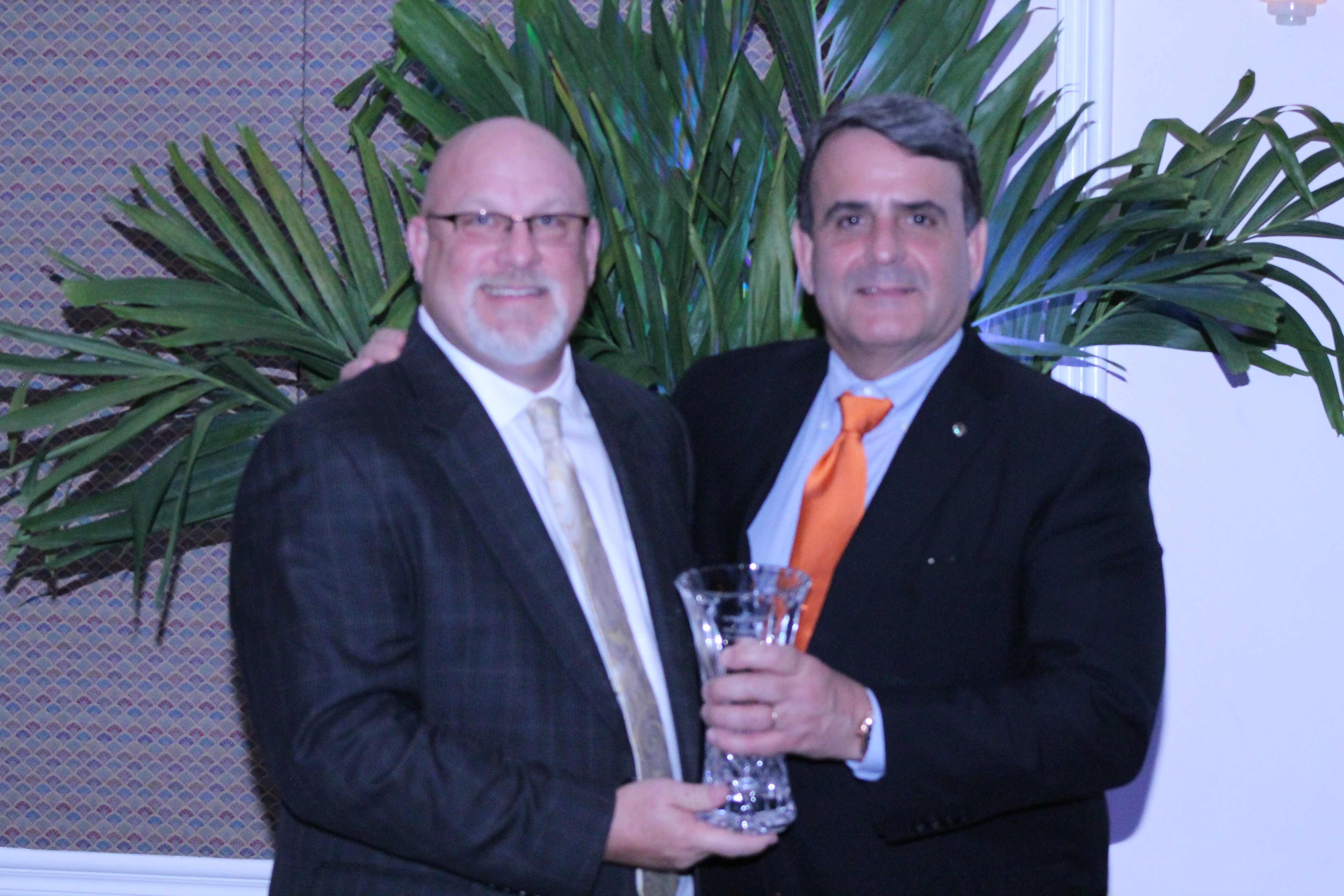 During the conference, three TCATA members were recognized and presented awards on the anniversaries of their membership in 2016. Curtis Pellerin accepted an award on the occasion of Pellerin Laundry Machinery's 75th anniversary; The E. J. Thomas Company was recognized for 50 years of membership; John Kratz accepted an award in recognition of Tri-Supply's 25 years of membership. See below for a profile of each of these companies. (On the left is Steve Mathews and Curtis Pellerin.)
---
2016 TCATA Scholarship Recipient Announced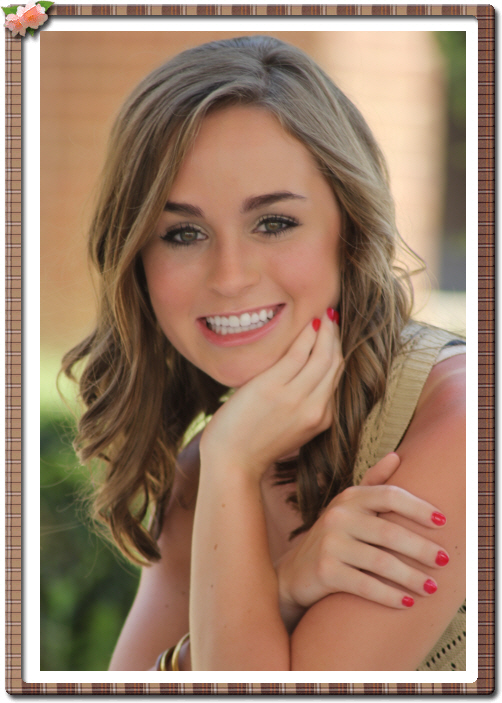 Congratulations to Claire Burnett, who was recently chosen as the recipient of TCATA's 2016 college scholarship fund award. As such, she will receive $2,000 per year during each of her four years of college. Claire is the daughter of Jack Burnett, president of Union Drycleaning Products, USA.
Ms. Burnett is an extremely accomplished person - both academically and otherwise. Her list of accomplishments is too lengthy to list in full, but here are some highlights: she is president of her high school's National Honor Society, has achieved the highest possible score in every advanced placement test and is currently ranked second out of 377 students in her graduating class. She will serve as Salutatorian.
A leader throughout her high school years, Ms. Burnett led the creation of a peer tutoring program; was heavily involved in the drama program; served as captain of the JV softball team; and was an active member of the student ambassador club. She also received the athlete scholar award and was voted "best work ethic" and "most successful" by her peers.
Ms. Burnett plans to pursue a psychology degree at the University of Georgia, ultimately obtaining a Ph.D. specializing in industrial-organizational psychology.
"TCATA is very pleased to assist such an outstanding student as Claire," stated Gerald Henke president of the Association. "All of us at TCATA wish her the very best during her college career and beyond."
---
TCATA is pleased that we have three member companies celebrating membership anniversaries in 2016 - Pellerin Laundry Machinery Sales, E.J. Thomas Company and Tri-Supply. TCATA thanks them for their many years of loyal support and wishes them many more years of success in business. Below is a brief history of two of these companies.
Pellerin Laundry Machinery Sales Company Celebrates 75 Years of Membership in TCATA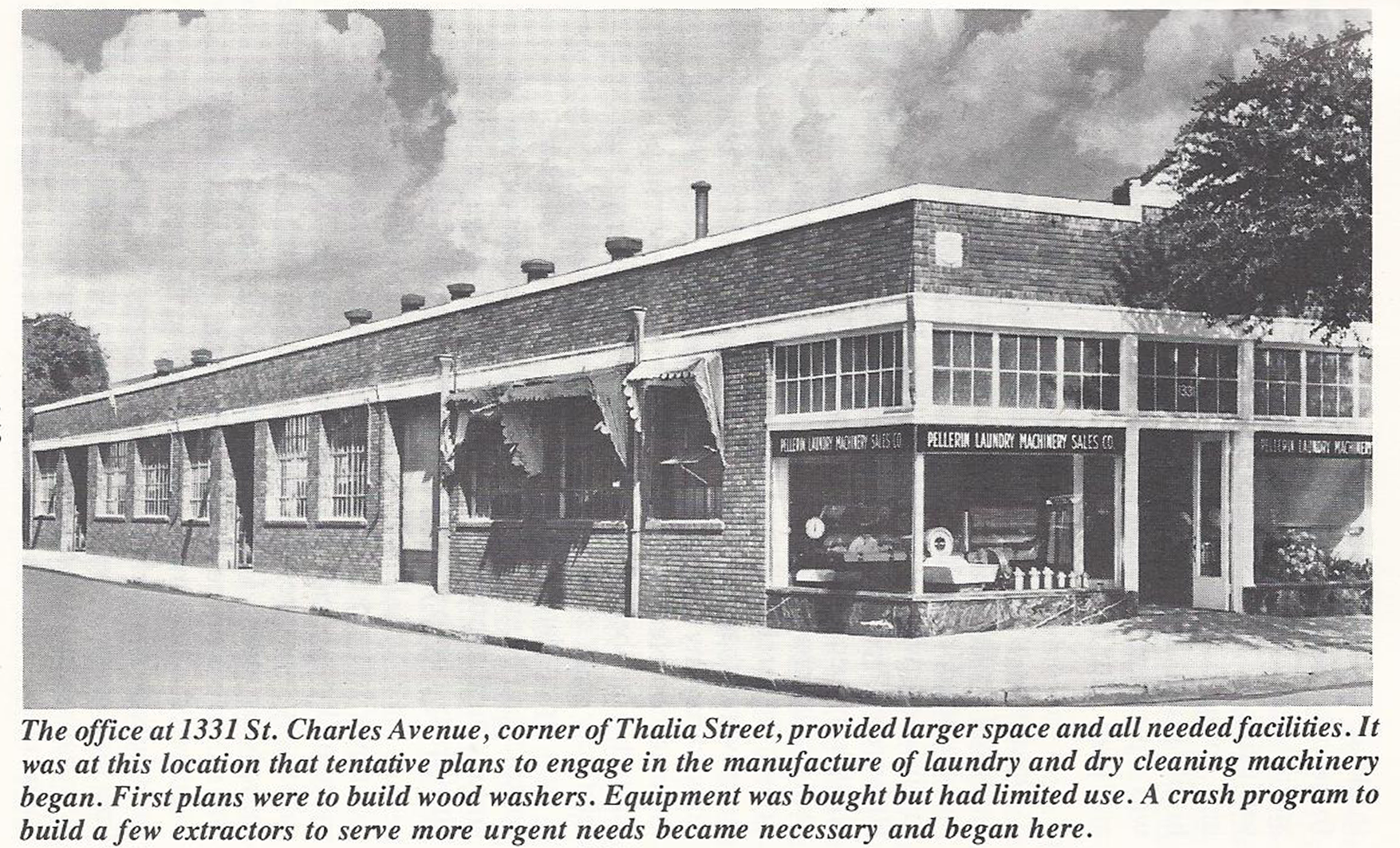 Founded in New Orleans, Louisiana in 1921 by Willis A. Pellerin, Pellerin Laundry Machinery Sales Company from the beginning has provided quality service and laundry equipment to their customers. Headquartered in Kenner, Louisiana since 1957, they also have a regional service office and spare parts warehouse in Grand Prairie, Texas.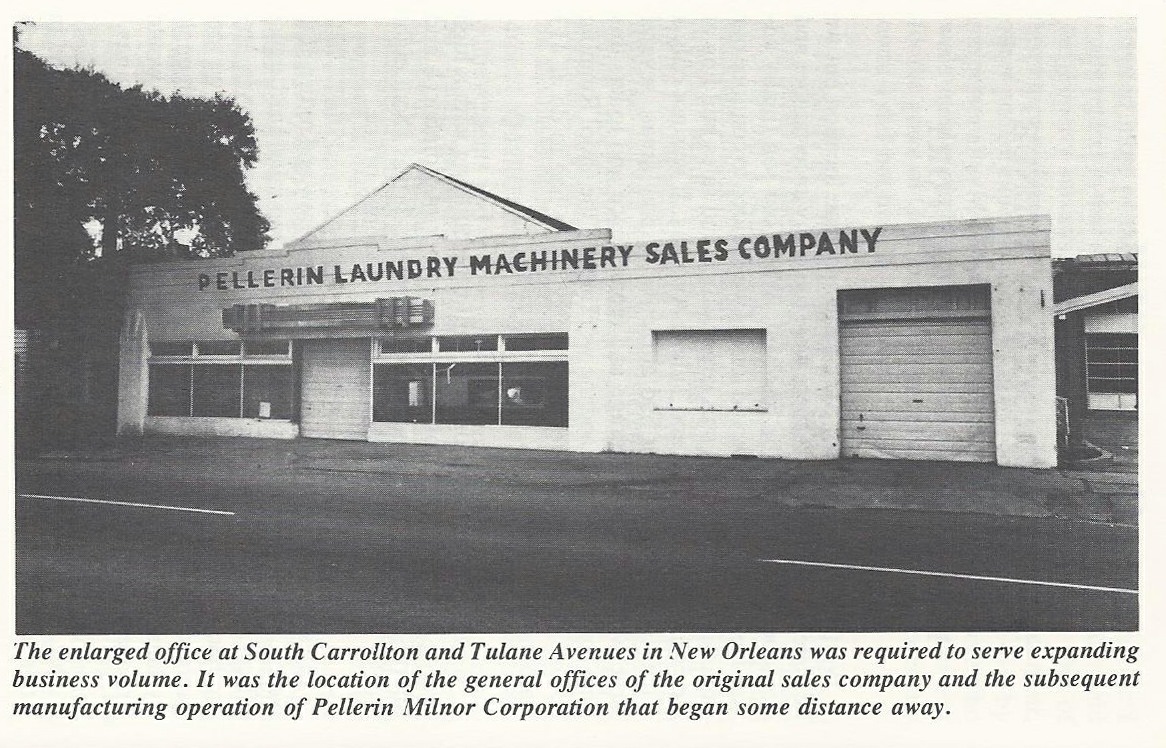 For more than 30 years Pellerin Laundry Machinery has been run by Curtis Pellerin, Willis A.'s grandson. The company serves customers in Texas, Louisiana, Arkansas, Mississippi, Western Tennessee, Alabama, and the Florida panhandle. The company is built and operated on their mission to contribute to the success of those they serve by facilitating and supplying their laundry processing equipment needs and by supporting them before, during, and after the sale.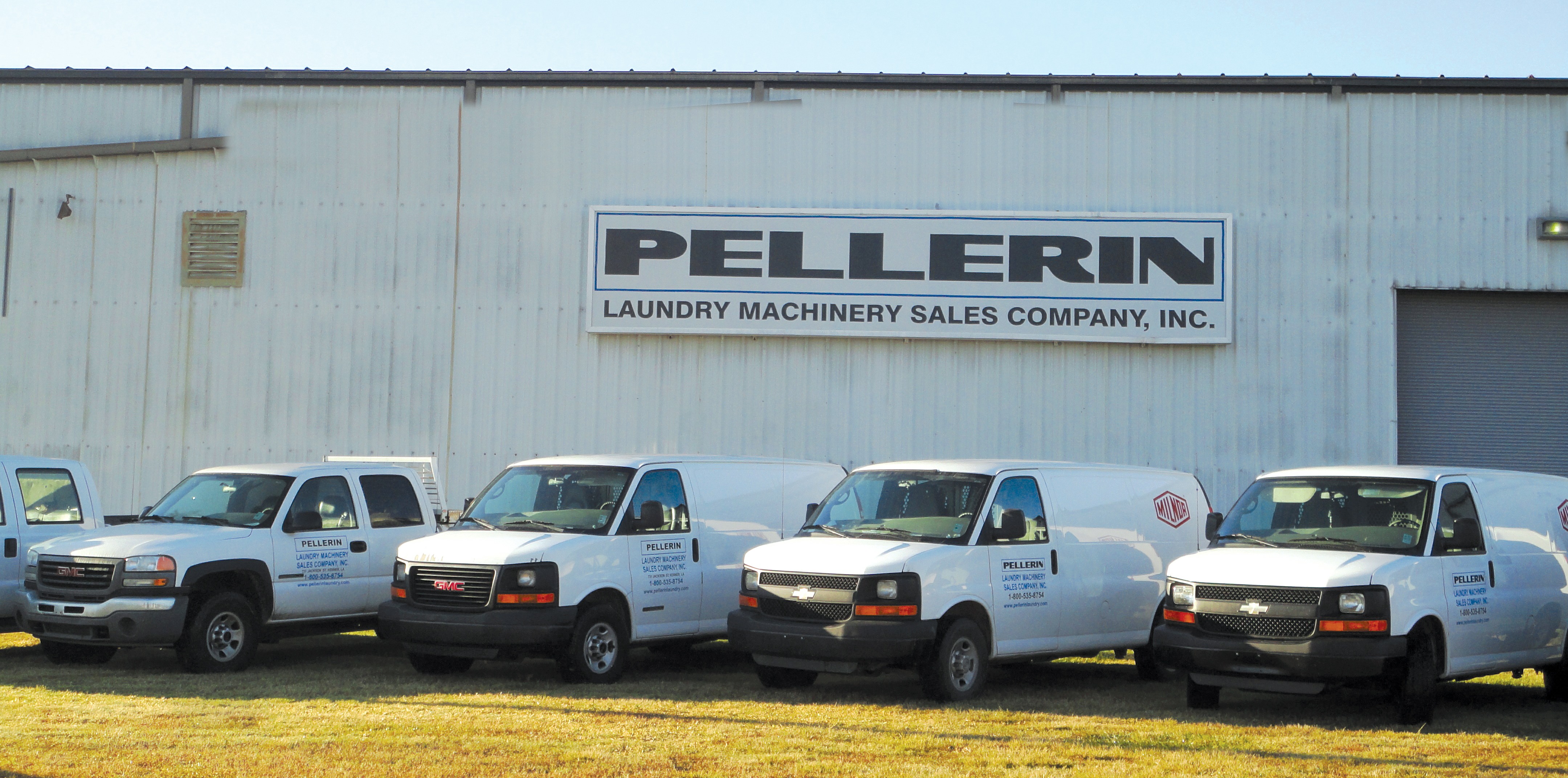 In their over 95 years of industry experience, Pellerin Laundry Machinery has seen the laundry industry grow from wooden drummed washing machines that, in multiple machine installations, were daisy chained to a central motor, to the highly automated and efficient systems they offer today.A flexible and capable company, Pellerin, with approximately 50 employees across their seven state territory, provides innovative, cost-effective and practical solutions for a wide range of customers. To develop these solutions, their salesmen and in-house design team work closely with machinery manufacturers and other industry experts. Their customers range from facilities with relatively small production needs such as those typically found in hotels, nursing homes, school gymnasiums, etc., up to large professionally owned and managed laundries processing tens of millions of pounds of linen per year. (Pictured above are the current offices of Pellerin Laundry Machinery Sales Company in Kenner, Louisiana.)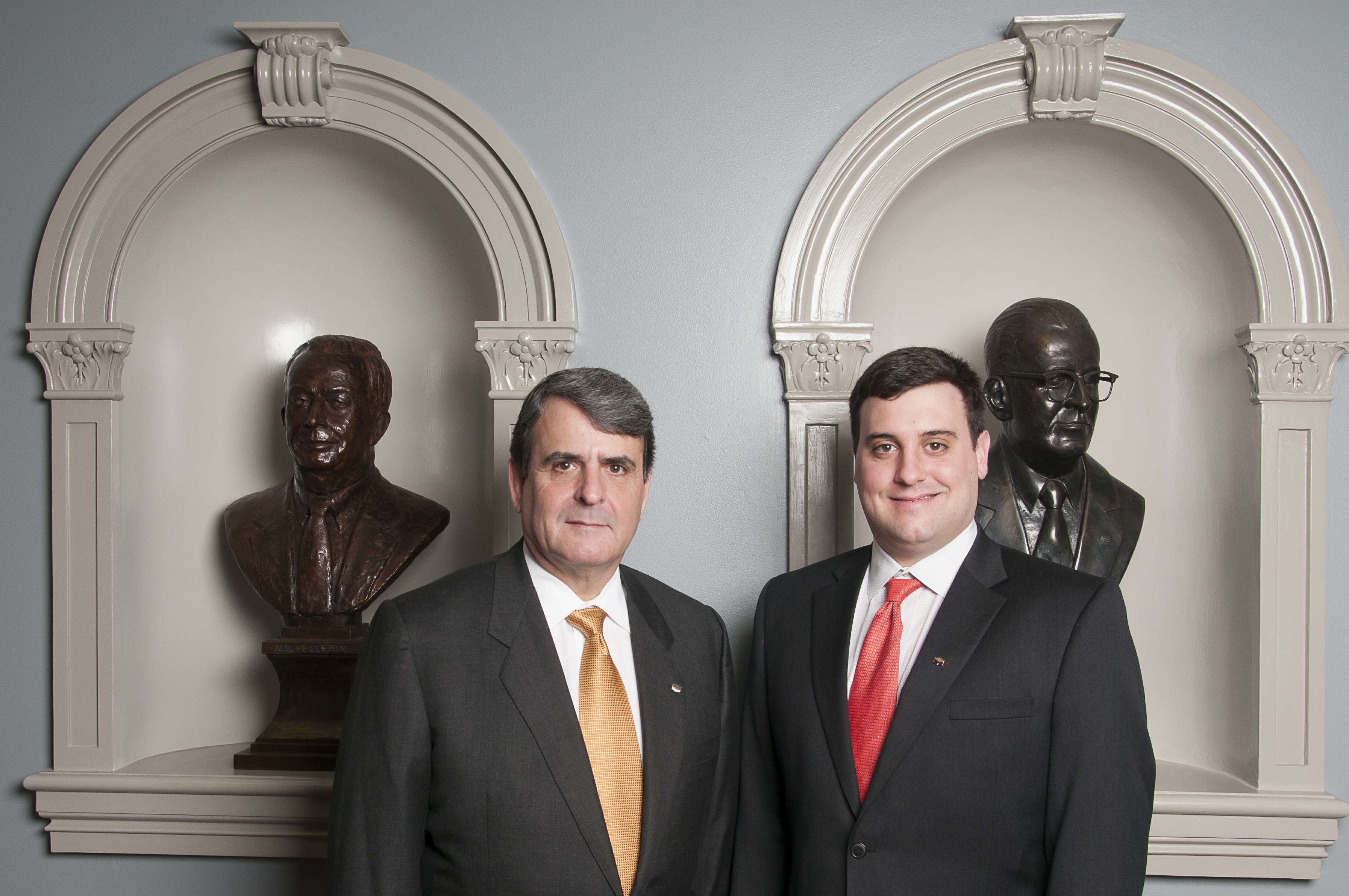 "It has been a pleasure serving our industry in the most technologically dynamic period in history, while at the same time honoring the legacy of those who came before us, going all the way back to my grandfather. Frankly, it's a lot of fun," stated Curtis Pellerin. "My son Jean-Marc recently joined the company after working at Milnor International in Brussels, Belgium and at Pellerin Milnor Corporation, assuring continuity into our second hundred years." (Pictured above are Curtis Pellerin (l) and his son Jean-Marc with busts of Norvin Pellerin (l) and Willis A. Pellerin (r).)
************************************
E.J. Thomas Celebrates 50 Years of Membership in TCATA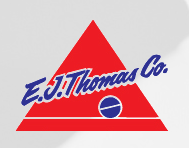 EJ Thomas Company, founded in Columbus Ohio in 1936, is now in its 80th year of business serving dry cleaners and laundries throughout the Midwest. John Eckhardt purchased the company in 1980 with only a warehouse in Columbus. He expanded the company beginning in the late 1980's into the Cincinnati, Indianapolis and Detroit markets, giving EJ Thomas a dominant presence throughout the Midwest.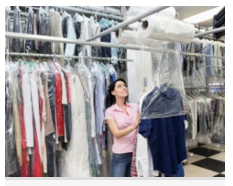 In 2010 Mr. Eckhardt sold the EJ Thomas to Randy Zimmerman and Matt Walter. Since then EJ Thomas has made a number of strategic acquisitions expanding into the Northeast Ohio and Pennsylvania markets. In addition, through its partnering with Mike and Rick Ross of AristoCraft in 2011, the combined company also serves customers in the New England and upstate New York markets nearly doubling the company's size and coverage area.
EJ Thomas Company has always been a leader in the industry with a reputation for unparalleled excellence and innovation in customer service. The EJ Thomas sales force works hand in glove with their customers insuring not only that the flow of supplies is seamless but that their customers are kept abreast of all Industry news as well as the latest products and ideas aimed at helping them improve quality and bottom line profitability.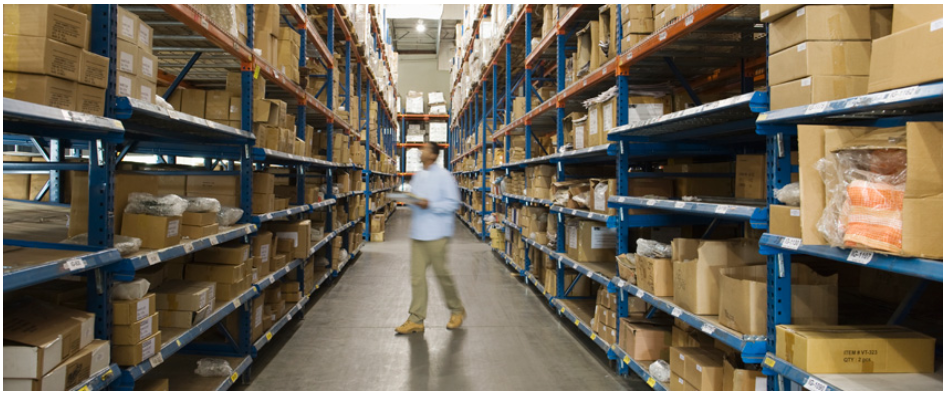 Today, in an effort to make the customer experience more beneficial, EJ Thomas offers, at no extra charge, the services of two specially trained pad & cover installation and service experts. Additionally, the EJ Thomas customer service team supports the sales force's efforts to enhance the customer "experience".
Over the last few years EJ Thomas consolidated three of its smaller warehouses into one large 35,000 square foot facility centrally located in the Fairfield, Ohio area. The new facility consolidates resources to better serve their customers in the Columbus, Cincinnati, Indianapolis and Louisville markets. The company now processes nearly 100,000 orders per year with virtually zero backorders.
The EJ Thomas ownership and management team are highly visible and active in the business. In addition to serving on many of the Industry's trade association boards, they are all involved and engaged on a daily basis with customers keeping in touch with their evolving needs.

The combined EJ Thomas and AristoCraft companies are poised to work into the future with their nearly 4,500 Customers bringing them the continued products, service and support to keep their businesses moving seamlessly and profitably.
---
Tri-Supply Company Celebrates 25 Years of Membership in TCATA

Tri-Supply Company Inc., headquartered near Chicago, Illinois, is a full service distributor for the laundry and drycleaning industry throughout the Midwest, covering Illinois, Wisconsin, Indiana, Iowa, Michigan and Missouri.
Tri-Supply was founded in 1946 when Chicago entrepreneur and inventor Ralph Margolis originated the "covered hanger" and formed a company to manufacture this product as well as custom printed hangers. In 1957, Gordon Kratz opened up the first branch warehouse for Tri-Supply in Rockford, Illinois and expanded the company's product lines as well as opening several more branches.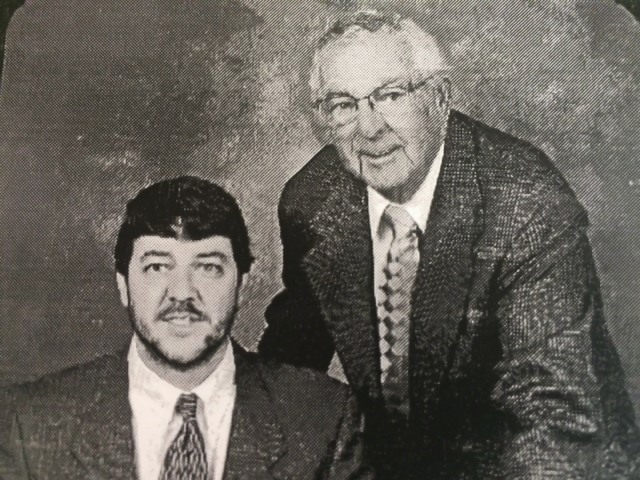 Further product line expansion came with a merger in 1969 when Tri-Supply became a division of the Thompson-Hayward Company. In 1981, Gordon Kratz re-started Tri-Supply, whose mission was to expand in both products and services to its customers with an experienced and knowledgeable sales force, able to assist and train their customers in these new product technologies. In 1986, after graduating from the University of Iowa, Gordon's son John joined the company. Under their combined leadership, Tri-Supply grew to become a distributor of all major lines of chemicals and detergents, along with hangers, poly and other specialty items to the drycleaning, laundry and industrial cleaning industries. (Pictured above are: John Kratz, left and Gordon Kratz, right)
Tri-Supply is now owned and operated by John Kratz since the passing of his father Gordon in 2008. John has continued to grow the companies' markets and service their customers with experienced and knowledgeable account representatives, along with an inside support team and customer service. An additional service the company offers is a specialty laundry technician who conducts quality control audits, chemical selection and recommendation, and installation and maintenance of liquid injection systems. They also offer installation and training on replacement of pads and covers for their drycleaning and laundry equipment.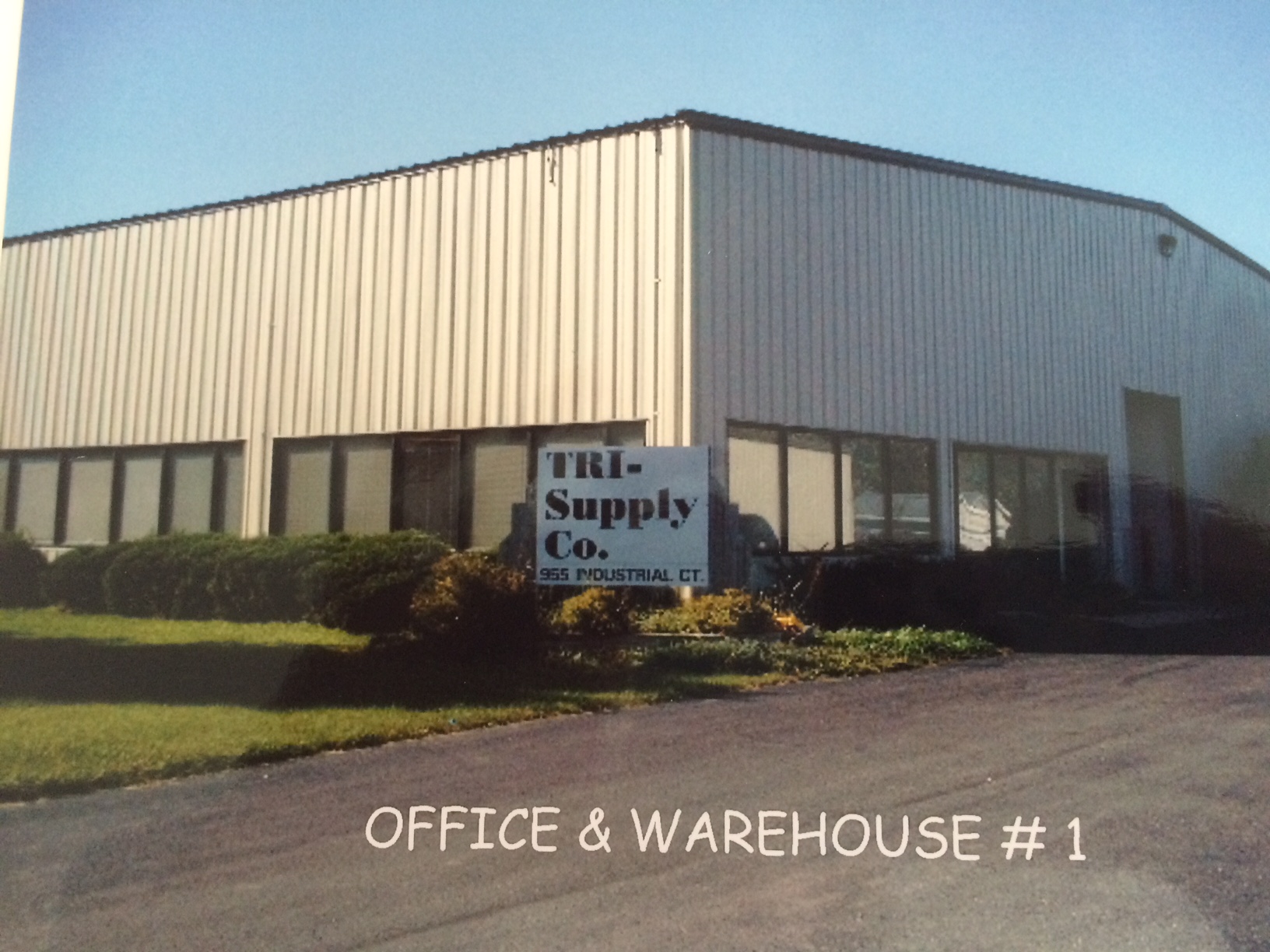 Tri-Supply's corporate headquarters, located in Loves Park, Illinois, has 25,000 square feet in office and warehouse space, plus another 12,000 square foot warehouse next door for storing additional inventory. John Kratz wants to make sure they have ample supplies to meet their customers' needs.
---
The Textile Care Allied Trades Association (TCATA) is an international trade association representing manufacturers and distributors of drycleaning and laundry equipment and supplies. It is the only trade association dedicated exclusively to the interests of the allied trades.