R. W. Martin Company Breaks Ground for New Facility
(January, 2018) R.W. Martin Company of Kent, Ohio, a leading provider of pre-owned and rebuilt industrial equipment for the textile care industry, is celebrating their 50th anniversary and officially broke ground for its new remanufacturing facility on Jan. 25. Situated on five acres in Tallmadge, Ohio, the new 34,000 square-foot building will include expanded workspace for machinery cleaning, all levels of machine repair and quality control inspection. The facility will also feature state-of-the-art assembly and refinishing areas. When completed, a 4,800 square-foot upper mezzanine and overhead crane will enable optimum storage and safe handling of equipment inventory awaiting shipment.
"After several years of searching for the optimal space, new construction was determined to be the best way to address our operations' unique requirements," explains President Chip Ottman. "The facility design will improve workflow and process efficiency by utilizing work cells for each operation, minimizing equipment handling. The result will be improved processes and a better finished product for our customers."

R.W. Martin Company will continue to maintain its corporate offices at 310 Park Ave. in Kent. The new location will open in May 2018 to serve as the company's shop and warehouse operations facility.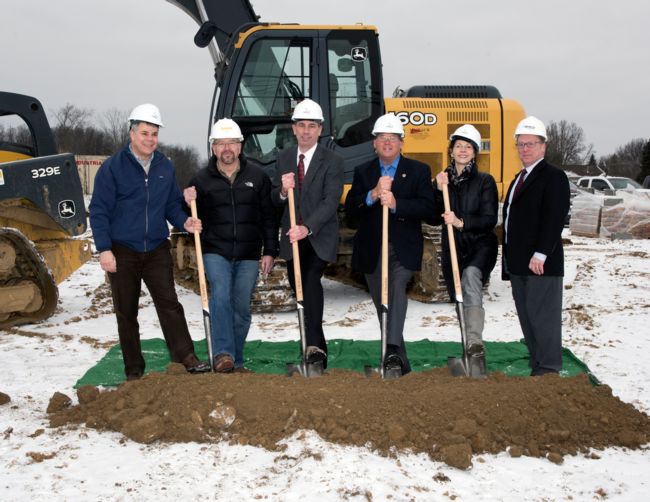 Pictured from left to right:
David Pelligra, Principal Architect, David Pelligra & Architects, Inc.
Jeff Campbell, Owner, Campbell Construction
Shawn Martin, CEO, R.W. Martin Company
David Kline, Mayor of Tallmadge
Rita Weinberg, Tallmadge Economic Developer
Chip Ottman, President, R.W. Martin Company