Lapauw and Montanari Announce Partnership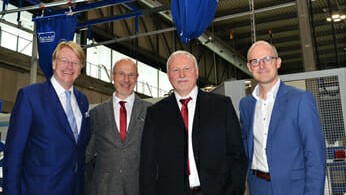 (October, 2018) Lapauw International N.V., of Kortrijk, Belgium, recently announced that the company has signed a long-term agreement with Montanari for the production and distribution of linen transport systems.
Founded in Modena, Italy, in the early 1950s, Montanari quickly identified its core business in the laundry sector and, more specifically, in supplying industrial laundries with linen transport systems. For many decades, Montanari has delivered high-quality logistic systems and solutions such as linen sorting systems, overhead bag systems, conveyor belts, full supervision software systems, and more.
"We are extremely happy to announce this exciting partnership," said Philippe D'heygere, president of Lapauw. "Montanari has an amazing track record: they have installations in over 600 laundries around the world.
Steven Renders, CEO of Lapauw, added that, "For Lapauw, the partnership with Montanari is the logical next step after the acquisition of Transferon last year. Lapauw can now – more than ever – serve as the single point of contact for customers all over the world that want to invest in full laundry solutions." Pictured left to right: Philippe D'heygere, President, Lapauw; Claudio Montanari, CEO, Montanari; Daniele Montanari, technical director, Montanari; and Steven Renders, CEO, Lapauw