Kannegiesser ETECH Promotes Schult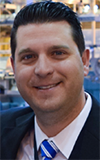 (April, 2021) Kannegiesser ETECH of Minneapolis, MN recently promoted Tony Schult to Executive Vice President. "Tony Schult has a unique combination of skills, experiences, and vision for the future that make him uniquely qualified to join the leadership team at Kannegiesser ETECH," says Phil Hart, President and CEO.
For 17 years, Schult has worked in many areas of Kannegiesser ETECH, giving him a wealth of experience moving into this new role. He pioneered the development of the company's Systems Performance Team, designed to provide the best service to customers. The company says he played a vital role in merging and designing the company structure of the E-Tech and Kannegiesser teams when the two companies came together four years ago.
"I look forward to this opportunity working alongside our leadership team and everyone else at Kannegiesser ETECH to help streamline operations to provide the very best products, services and solutions for our customers," says Schult.