The Clean Show
July 30 - August 2 -- Atlanta, Georgia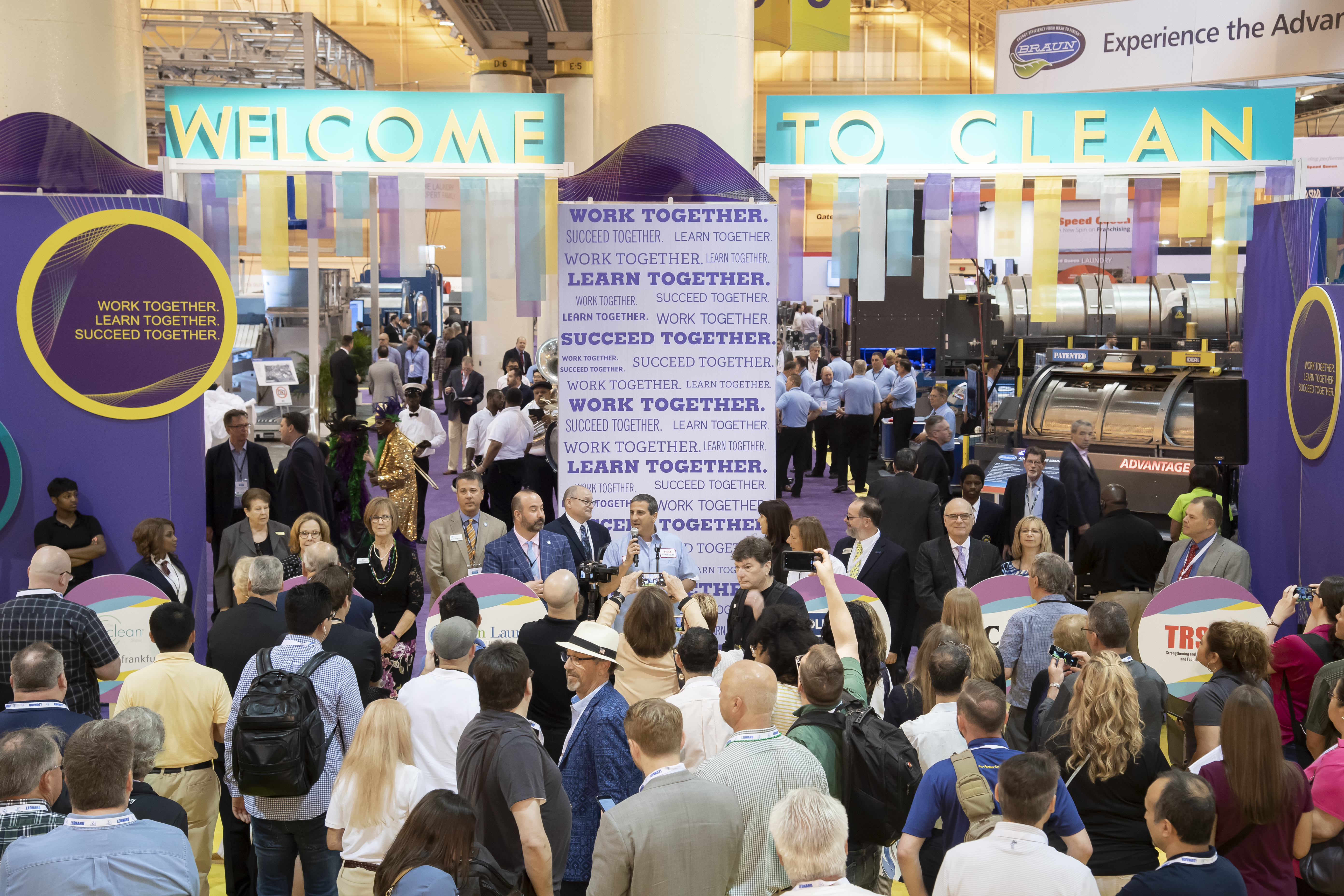 July 1, 2022 - Members are invited to the DLI-TCATA Membership Reception, Saturday, July 30, 2022 at 5:30 p.m. at the Marriott Marquis in Atlanta, Georgia. We would like to thank all the reception sponsors that helped make this possible. Please visit the DLI Website for all the details.
Come visit TCATA at booth 1028. We are excited to see you all.
March 1, 2022 – Visitor registration for The Clean Show 2022, the largest event in the U.S. for the laundering, dry cleaning, textile care services, supplies, and equipment industry, is officially open! The four-day event, held in Atlanta, July 30 to August 2, 2022, will bring together thousands of industry professionals from all across the globe to conduct new business and discover the latest product developments, technology, and more. The 2022 edition will feature live demonstrations, networking opportunities, and educational sessions where industry experts will share the latest technological advancements hitting the industry, trend predictions, strategies to grow and expand into new markets, and insights on how to stay ahead of the competition. Visitors' information can be found on The Clean Show's website, along with a direct link to the registration portal. Within the Planning & Preparation section, attendees can obtain detailed information about the show date and hours, venue, registration prices and deadlines, housing, and tips to explore Atlanta
Clean Show Sold to Messe Frankfurt
The Clean Show Executive Committee has finalized a deal with Messe Frankfurt to purchase the Clean Show. The Show is currently owned by the five major associations in the textile care industry: The Textile Care Allied Trades Association (TCATA), The Coin Laundry Association (CLA), The Dry-Cleaning and Laundry Institute (DLI), The Textile Rental Services Association (TRSA), and The Association for Linen Management (ALM). Riddle and Associates, managed the Show for nearly 30 years, ran the Clean Show in June 2019 on behalf of Messe Frankfurt.
As part of the sale, the five current sponsors will remain involved with the Show, including serving on an Advisory Board to provide input on future Shows, promoting and supporting the Show, sponsoring a booth, and in a variety of other ways. TCATA President Leslie Schaeffer noted that "It is important for TCATA members to know that the exhibitor package plan and the discounts on exhibit booths under the TCATA Plus One program (members of TCATA plus one other association get the lowest rates available) will remain a valuable benefit for future Shows. We anticipate that the transition to a new owner will be seamless, and that both exhibitors and attendees will largely have the same experience they had at past Shows."
Messe Frankfurt is the world's largest trade show and event organizer with its own exhibition grounds. Many members are familiar with Texcare, an event held in Frankfurt, produced by Messe every four years. Their purchase of the Clean Show will elevate the portfolio of trade shows organized by Messe for the laundry, dry cleaning and textile service businesses. Wolfgang Marzin, President and CEO of Messe Frankfurt, noted that "With the Clean Show, we have purchased America's biggest trade show for the textile care industry and gained another module for our worldwide network of events for this sector. We now hold trade shows in all major economic regions and offer synergistic effects for both exhibitors and visitors."
---
Stay in Touch with the Clean Show
Looking for updates on Clean? Look no further! Below is a list of social media sites and quick links that can provide you with the most up to date information regarding the Clean Show:
Social Media:
YouTube: http://www.youtube.com/user/CleanShowVideo
Facebook: https://www.facebook.com/thecleanshow
Twitter: http://twitter.com/thecleanshow
Instagram: http://www.instagram.com/thecleanshow/
LinkedIn: http://www.linkedin.com/company/the-clean-show/