The Clean Show
July 30 - August 2 -- Atlanta, Georgia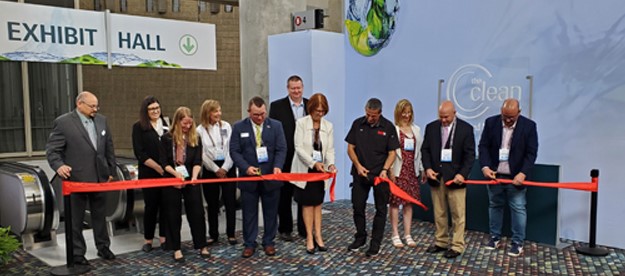 August 2022- After three years of anticipation, The Clean Show kicked off on July 30th at the Georgia World Congress Center. Association for Linen Management (ALM), Coin Laundry Association (CLA), Drycleaning & Laundry Institute (DLI), Textile Care Allied Trades Association (TCATA), and Textile Rental Services Association of America (TRSA) participated in the ribbon cutting ceremony to officially start the show (pictured above). Representing TCATA were Board President John Silverman of Tschopp Supply and Leslie Schaeffer, TCATA CEO.
If you were on The Clean Show floor, you know the positive energy was palpable. It was wonderful to see so many of you and catch up on the latest news from our members. Greg Jira, Show Director from Messe Frankfurt said, "These industries have been through a lot these last two years. Clean's goal is to serve as a global platform for knowledge and idea sharing so that companies may walk away with the tools they need to recover and ultimately, thrive. With the feedback we are receiving from this year's event, it is clear that we were able to accomplish that and so much more."
According to Messe Frankfurt early figures show that 10,000 attendees visited the booths of approximately 350 exhibitors, 51 of which were first time exhibitors. Attendees participated in educational sessions and enjoyed networking events in the evenings. The DLI/TCATA reception at the Marriott Marquis on Saturday evening was a smashing success. TCATA would like to thank all those who participated and our member sponsors that made the event possible:
A.L. Wilson Chemical Company
European Finishing Equipment / Hi-Steam EzProducts International, Inc.
FabriClean Supply
Fulton Boiler Works
Kreussler, Inc.
Laun-Dry Supply Company
M&B Hanger
National Clothesline
Parker Boiler
Sankosha USA, Inc.
Seitz, The Fresher Company
Union Drycleaning Products USA
Unipress Corporation
UNX-Christeyns
Xplor Spot
Messe Frankfurt will be publishing the official statistics from The Clean Show in the coming weeks. TCATA will keep you informed of the details as soon as the numbers are provided. Additionally, Messe Frankfurt will provide all exhibitors with a link to download the complete attendee contact list. The Clean Show is organized by Messe Frankfurt in collaboration with ALM, CLA, DLI, TCATA and TRSA. The next Clean Show is slated for mid-August, 2025 in Orlando, specific dates to be announced. Thank you to all who stopped by our booth to say hello. We appreciate you and look forward to seeing you again soon.
Clean Show Sold to Messe Frankfurt
The Clean Show Executive Committee has finalized a deal with Messe Frankfurt to purchase the Clean Show. The Show is currently owned by the five major associations in the textile care industry: The Textile Care Allied Trades Association (TCATA), The Coin Laundry Association (CLA), The Dry-Cleaning and Laundry Institute (DLI), The Textile Rental Services Association (TRSA), and The Association for Linen Management (ALM). Riddle and Associates, managed the Show for nearly 30 years, ran the Clean Show in June 2019 on behalf of Messe Frankfurt.
As part of the sale, the five current sponsors will remain involved with the Show, including serving on an Advisory Board to provide input on future Shows, promoting and supporting the Show, sponsoring a booth, and in a variety of other ways. TCATA President Leslie Schaeffer noted that "It is important for TCATA members to know that the exhibitor package plan and the discounts on exhibit booths under the TCATA Plus One program (members of TCATA plus one other association get the lowest rates available) will remain a valuable benefit for future Shows. We anticipate that the transition to a new owner will be seamless, and that both exhibitors and attendees will largely have the same experience they had at past Shows."
Messe Frankfurt is the world's largest trade show and event organizer with its own exhibition grounds. Many members are familiar with Texcare, an event held in Frankfurt, produced by Messe every four years. Their purchase of the Clean Show will elevate the portfolio of trade shows organized by Messe for the laundry, dry cleaning and textile service businesses. Wolfgang Marzin, President and CEO of Messe Frankfurt, noted that "With the Clean Show, we have purchased America's biggest trade show for the textile care industry and gained another module for our worldwide network of events for this sector. We now hold trade shows in all major economic regions and offer synergistic effects for both exhibitors and visitors."
---
Stay in Touch with the Clean Show
Looking for updates on Clean? Look no further! Below is a list of social media sites and quick links that can provide you with the most up to date information regarding the Clean Show:
Social Media:
YouTube: http://www.youtube.com/user/CleanShowVideo
Facebook: https://www.facebook.com/thecleanshow
Twitter: http://twitter.com/thecleanshow
Instagram: http://www.instagram.com/thecleanshow/
LinkedIn: http://www.linkedin.com/company/the-clean-show/