Rudmann Named President of Braun
G.A. Braun, Inc. of Syracuse, New York, is pleased to announce the appointment of Frederick G. (Rick) Rudmann as President, G. A. Braun, Inc.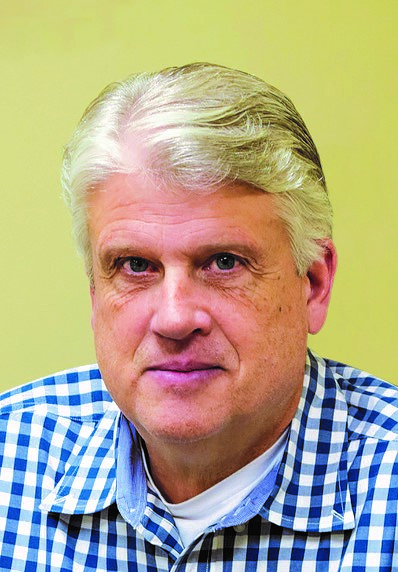 "Rick's vast knowledge and experience includes thirty plus years of strategic planning and business analysis in various manufacturing arenas," stated J.B. Werner, CEO/Chairman of the board. "Our foundation of unrivaled product quality and customer support will continue and advance. Under Rick's direction, we look forward to adding new technological innovations and enhancements to our product portfolio."
"I am confident that Rick will further strengthen our capabilities, and our ability to continue to develop solutions for our dynamic customer base both domestically and internationally. Rick's appointment is one more step along our strategic path to continue our growth in both domestic and international markets that we supply. We are excited to have Rick on our team and remain committed to ensuring our clients success and our partnership in to the future."
---
Clean 2019 Hosts Booth at ExpoDetergo Show
TCATA CEO David Cotter and Clean Show Manager John Riddle recently hosted a booth promoting Clean 2019 at the ExpoDetergo Show in Milan, Italy. They report that attending this show was beneficial, providing them the opportunity to let people from all around the world know about the Clean Show.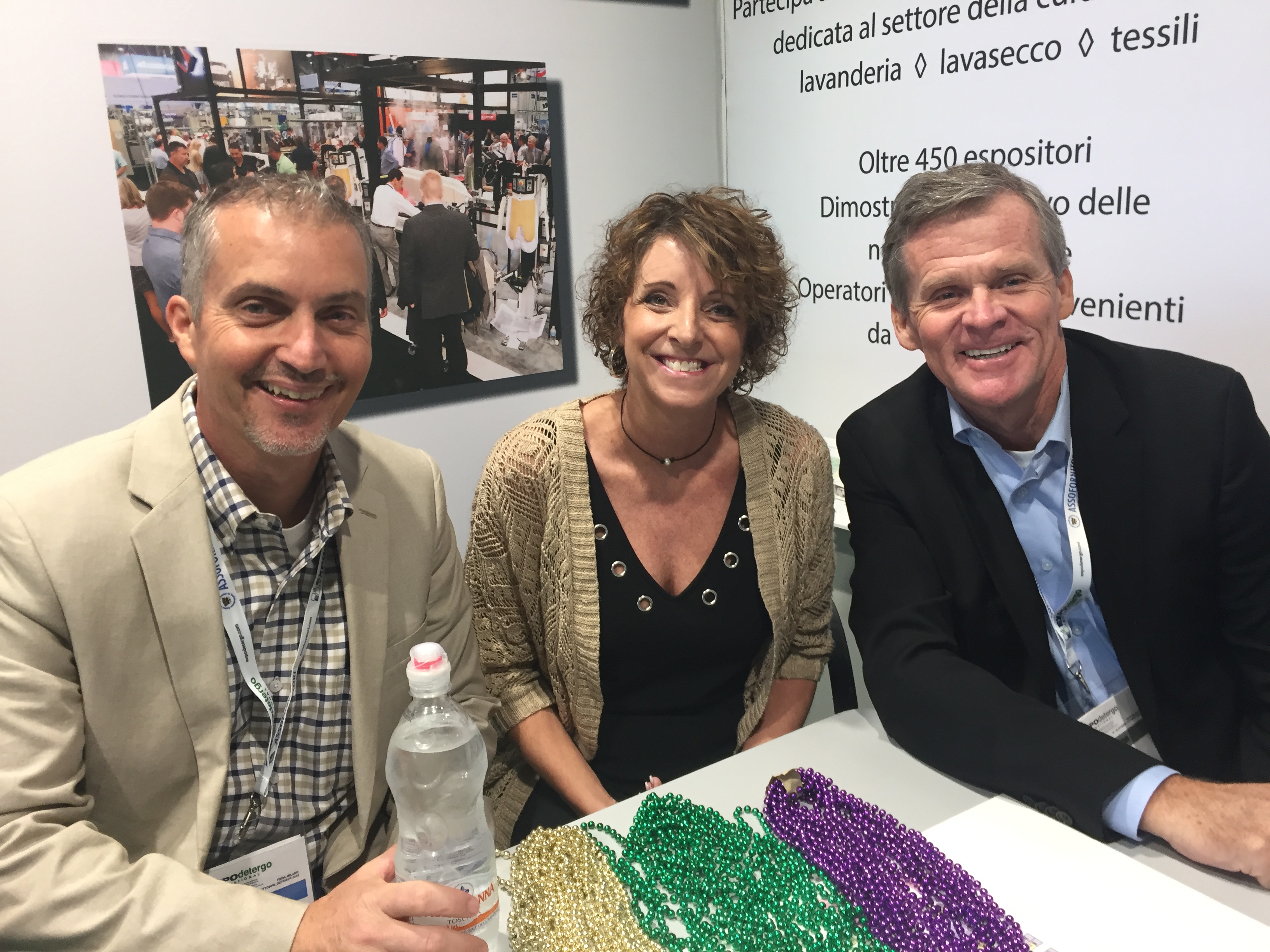 While there, Mr. Cotter and Mr. Riddle met with several current and potential Clean Show exhibitors, giving them a chance to answer a variety of questions about all aspects of the Show. Several exhibitors, including TCATA members, stopped by the booth. They also met with management officials from ExpoDetergo to discuss ways that both shows can work together to promote the textile care industry worldwide.
---
Sankosha Celebrates 40th Anniversary and Appoints Nelson President of Sankosha USA
On Septem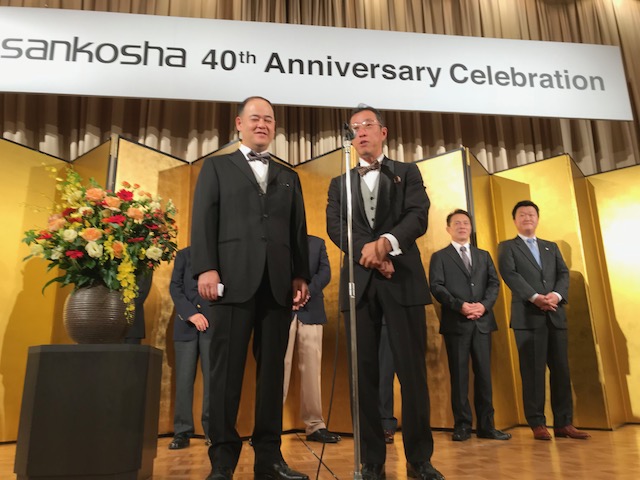 ber 19, 2018, approximately 200 guests including dry-cleaners, dealers and other industry executives attended an event in Tokyo celebrating the 40th anniversary of the establishment of Sankosha. In addition to other events, they toured the headquarters factory in Hachioji, seeing the latest products lines from Sankosha. Pictured left: Mr. Yusuke and Keisuke Uchikoshi
Mr. Yusuke Uchikoshi, company president, outlined the ways that Sankosha is preparing to meet a changing dry-cleaning industry, including the implementation of sensor technologies and a cashless economy. Many industry representatives who could not attend sent their congratulatio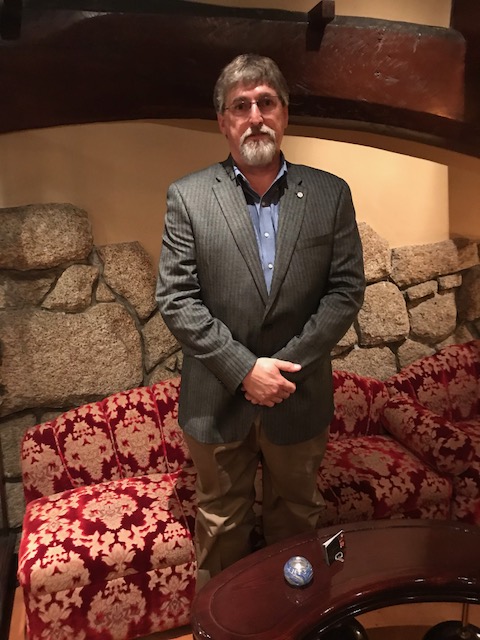 ns to the company.
During the celebration, the company announced the appointment of Mr. Wes Nelson, pictured right, as president of Sankosha USA. He has been with the US division of the company for many years, a division which just recently celebrated its 25th anniversary.
Material Flow Systems, of Ontario, California, designs and installs trolley rail systems and sorters for the garment industry, specializing in industrial laundries. Main contact is Jason Cassady, Sales Manager.

BeCreative360 of Orange, California, creates marketing materials for drycleaners and other industries. Main contact is Dave Troemel, Marketing Director.

CleanCloud, based in London, sells cloud based point of sale and order management software that allows retailers to run their businesses in store, online and on the go. Main contract is John Buni.

Maxi-Press Elastomeric of Middlebury, Connecticut, makes high performance water extraction membranes and spare parts for commercial laundry equipment. Main contact is Reiner Schmelcher.
HJLite of South Korea has been manufacturing reflective materials since 1996. Main contact is Byeong-joon Son.
Miele, Inc. offers professional laundry solutions tailored to your specific needs with high performance washing machines, tumble dryers, wet cleaning equipment and rotary ironers. Main contact is Paulo Rocha.
VEGA Systems of The Netherlands offers a complete range of washing equipment, feeders, folders, towel folders, conveyors, monorail systems and controls. Main contact is Rogier Vos.
Hutchinson Belt Drive Systems is a global provider of belts and belting systems for a variety of industries, including the industrial laundry industry. Their main contact is Scott Burgess a commercial laundry equipment veteran with 30 plus years experience.
Veit of Germany offers steam finishing equipment, boilers, irons, ironing tables, steam tunnels, finishers, presses, folding stations and bagging machines. Their main contact is Tony Montgomery.
Polypack GmbH & Co. of Germany offers bagging machines for hanging garments, complete with conveyor, labeling and sorting. Their main contact is Andreas Sandmann.
Kunshan Chuandao Washing Machinery Co., Ltd. from China produces laundry machines such as feeding, ironing, and folding machines. Their main contact is Luke Lu.
CREASET Permanent Crease Systems located in Long Beach, New York offers permanent crease systems for dry cleaners. James Hangley is their president and main contact.
BOWE Textile Cleaning GmbH of Germany is a manufacturer of dry cleaning machines. Frank Ziermann, CEO is their main contact.
---
The Textile Care Allied Trades Association (TCATA) is an international trade association representing manufacturers and distributors of drycleaning and laundry equipment and supplies, as well as the related trades. It is the only trade association dedicated exclusively to the interests of the allied trades.