Organization Trains, Matches Veterans with Manufacturing Jobs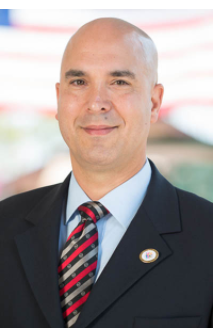 (May 2017) The skills gap is a serious problem that has often been discussed and written about. More than two million advanced manufacturing jobs will go unfulfilled due to a lack of skilled labor and an aging workforce. That's where Workshops for Warriors® (WFW) comes in with a better solution. Founded in 2008 by Navy veteran Hernán Luis y Prado (pictured left), WFW helps match the approximately one million veterans who will be transitioning out of the military over the next five years with training and placement in manufacturing positions.
Based in San Diego, California, WFW operates as a non-profit school to provide veterans with industry training, nationally recognized credentials and help with job placement in manufacturing careers. The tuition-free program is open to veterans or transitioning service members.

Since 2011, 338 veterans have graduated from WFW, earning a total of 1,400 nationally recognized credentials. Over a sixteen-week semester, students take courses in either machining or welding, while some students elect to take both tracks. During that time, they earn an average of five to fifteen nationally recognized credentials in either the machining or welding program. Partnering with many organizations, the school's curriculum teaches students computer-aided design, computer-aided manufacturing, machinery repair and maintenance, CNC machining and turning, welding and fabrication, and other specialties.
"The idea is to bring in someone who has zero manufacturing experience and train them in the very best way known to man, on the best equipment possible and let them have lots and lots of hands-on experience," Luis y Prado says. "Then you have a person who not only served their country while in uniform, but they are able to serve their nation for the rest of their lives."
For more information, including ways to get involved, visit www.workshopsforwarriors.org.