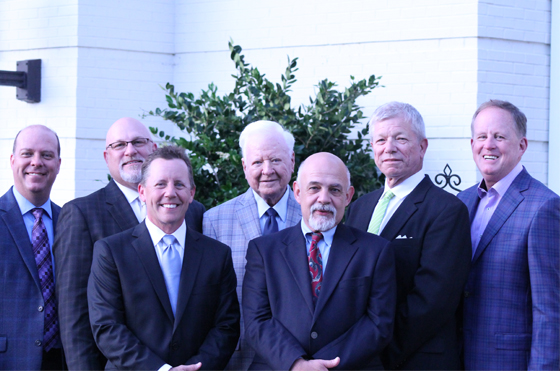 WHO WE ARE
The Textile Care Allied Trades Association (TCATA) is an international trade association representing manufacturers and distributors of drycleaning and laundry equipment and supplies, as well as the related trades. It is the only trade association dedicated exclusively to the interests of the allied trades.
TCATA's mission is to increase professionalism through business operations and sales improvement education, provide forums where business challenges are discussed and solved, generate and apply business intelligence, and create a favorable business climate by seeking fair regulation and legislation.
TOP NEWS
Ellis celebrates 75th anniversary of tcata membership
In 2019, The Ellis Corporation of Itasca, Illinois, is celebrating its 75th anniversary of membership in TCATA! Read a brief history of the company here.
forenta celebrates 50th anniversary with tcata
In 2019, Forenta of Morristown, Tennessee, is celebrating its 50th anniversary of membership in TCATA! Read more here.
In Memoriam: Bernard Milch Of Laundrylux
It is with sadness, admiration and respect that Laundrylux of Inwood, New York announces the passing of its founder Bernard Milch, at age 93. Read more.
BREAKING NEWS - Clean Show Sold to Messe Frankfurt
The Clean Show Executive Committee has finalized a deal with Messe Frankfurt to purchase the Clean Show. The Show is currently owned by the five major associations in the textile care industry: The Textile Care Allied Trades Association (TCATA), The Coin Laundry Association (CLA), The Dry-Cleaning and Laundry Institute (DLI), The Textile Rental Services Association (TRSA), and The Association for Linen Management (ALM). Riddle and Associates, which has managed the Show for nearly 30 years, will run the Clean Show in June 2019 on behalf of Messe Frankfurt. Read more.
TCATA Submits Comments on Proposed Retirement Plans Rule for Small Businesses
TCATA CEO David Cotter recently submitted comments to the U.S. Department of Labor's Office of Regulations and Interpretations supporting that Department's proposed rule on association retirement plans. The rule is a significant step toward expanding retirement coverage for employees of small employers and for working owners. Read More
President's Report
By now I'm sure you have heard about the sale of the Clean Show to Messe Frankfurt. It is important to point out a couple of items related to the sale. Read more.
Faultless Starch Rebrands as Faultless Brands
Faultless Starch/Bon Ami, based in Kansas City, Missouri, has announced its rebranding as Faultless Brands in a move to unify its entire portfolio of products. Read more.