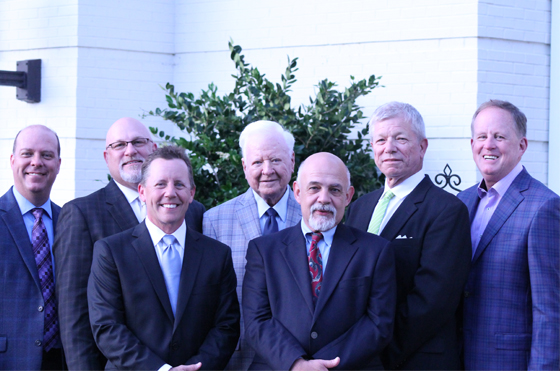 WHO WE ARE
The Textile Care Allied Trades Association (TCATA) is an international trade association representing manufacturers and distributors of drycleaning and laundry equipment and supplies, as well as the related trades. It is the only trade association dedicated exclusively to the interests of the allied trades.
TCATA's mission is to increase professionalism through business operations and sales improvement education, provide forums where business challenges are discussed and solved, generate and apply business intelligence, and create a favorable business climate by seeking fair regulation and legislation.
TOP NEWS
TCATA Holds Meeting to Chart Future
Fourteen members of TCATA gathered in Tampa, Florida last month for a strategy meeting to discuss plans for the Association's future direction. Read more about the meeting here.
Registration opens for TCATA annual conference
Registration and room reservations may now be made for TCATA's 2019 Annual Management and Educational Conference, to be held from July 31 to August 3 at the beautiful Ojai Inn and Valley Resort in Ojai, California. The business program will be one of the very best in many years, headlined by Sam Richter, a nationally known expert on gathering sales intelligence. You will not want to miss hearing Sam as well as the other speakers! Click here for details, including brief video messages from Russ Poy of Pellerin Milnor, Conference Chair, and the speakers.
Department of Labor Announces Proposed Rule on Overtime Pay
On March 7, the Department of Labor (DOL) announced a proposed rule that would make more than a million more American workers eligible for overtime. Key provisions of the proposal include:
2019 TCATA Anniversary members
The Ellis Corporation, M & L Equipment, Forenta and Realstar are each celebrating anniversaries of their membership in TCATA in 2019. To all these members, we say thank you for your long-standing membership, and all of us at TCATA wish you many more years of success! Please read on to view a brief history of these companies:
The Ellis Corporation - 75 Years
Supreme court rules on asbestos case
The Supreme Court recently ruled that manufacturers bear some responsibility for third party additions to their products but rejected a broader interpretation by a lower court that would have burdened manufacturers considerably more. Read more.
EDRO Announces changes to management structure
The EDRO Corporation announced recently that the company's management structure was changing. Read the full story here.
More Association & Industry News »
|
More Legislative Regulatory News »