Tingue Raises Funds for Maui Fire Victims
(September, 2023) The staff Tingue recently raised funds for The United Way's Maui Fire Relief Fund. The company's collective efforts resulted in a donation total of $4,500.
CEO David Tingue and the Tingue staff recently took part in a collective challenge for the company's operations team to walk a combined 500,000 steps in a single day on August 17, all in the spirit of supporting The United Way's Maui Fire Relief Fund.
"The passion and dedication displayed by our teams has been nothing short of remarkable," the company said in a news release. "We wanted to take a moment to share that our recent 'March for Maui' challenge has motivated an inspiring journey of camaraderie and purpose."
Tingue also held an e-commerce campaign. With each $100 online order placed by the company's customers last week, a $50 donation was contributed to the relief fund.
"Our thoughts and well wishes are with all those affected by the devastating fires in Maui," the company said. "Together, we stride toward a brighter tomorrow, not only for ourselves but for those in need."
To donate to the relief fund, click here.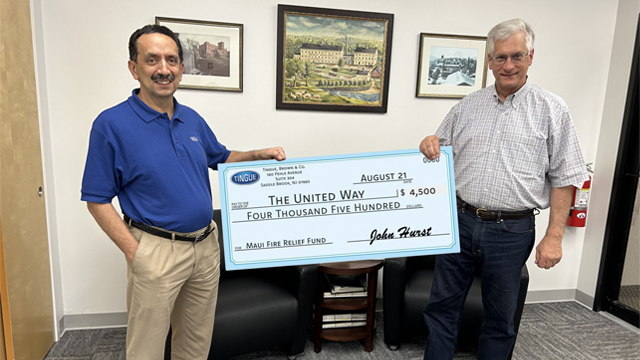 Tingue CFO John Hurst (right) and Controller John Ortiz (left) proudly holding the United Way donation check.